WELCOME TO LUCY'S CHILDREN'S FUND

WHO WE ARE

Lucy's Children's Fund is a not-for-profit corporation which focuses on assisting and providing opportunities for poor children around the world. It is a family foundation, organized in 2002, as a way to both grant assistance to needy kids and to provide our own family with an opportunity to work together and foster a culture of giving. Please look through our site to learn more about the many worthy organizations we've given to and how we've taken our foundation from a good idea to a successful family endeavor.
OUR MISSION

Provide financial grants to organizations which give children who lack opportunities and resources the assistance and support they need to grow and develop into healthy and happy young people and adults.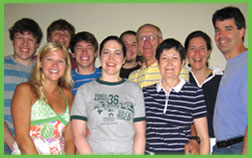 LCF BOARD MEMBERS
From left to Right:
Paul Lorsbach,
Erin Hershey,
Frank Bieszczat,
Robert Lorsbach,
Ali Bieszczat,
Jordan Taren,
Robert Beezat,
Gaye Beezat,
Maureen Schuerman,
Ted Schuerman.

Lucy's Children's Fund is a registered 501(c)3 organization. Thank you for your support!